"Prove It First" Caucus Resolution
Sulfide Mining District planned for Minnesota's Arrowhead Region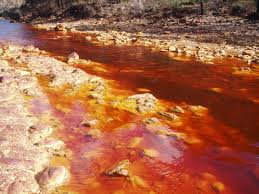 Acid Mine Drainage (AMD)
Participate in your Minnesota precinct caucus
Tues, Feb 7, 2012 (for all political parties)
Precinct caucuses are meetings organized by Minnesota's political parties to begin the process of selecting candidates for the 2012 election and policy positions to shape the party platform. Caucuses are held in locations across Minnesota, are open to the public, and participation is encouraged.
Finding Your Precinct Caucus

Caucus Finder helps Minnesotans locate the time and place of caucus meetings in their neighborhoods.

Got to Sec. State Website HERE

or Call: 1 877 600 8683 (tap 1 then 4) You may also watch a brief video of caucuses HERE

Learn more about sulfide mining at :
HARDROCK MINING ON FEDERAL LANDS : Found HERE
Appendix B: Potential Environmental Impacts of Hardrock Mining : Found HERE
EPA's assessment of PolyMet's NorthMet Mine in northeastern Minnesota : Found HERE

Please bring the following sulfide mining resolution to your caucus : Found HERE
Resolution on Sulfide Mining in Minnesota
Please bring to your Caucus
"Prove It First" Caucus Resolution
WHEREAS:

- The laws of the land established to protect the Superior National Forest, including the Boundary Waters Canoe Area Wilderness, the Lake Superior watershed and the entire State of Minnesota, are being weakened by legislation, ignored by governmental agencies, and bypassed through land exchanges, and;

- The history of sulfide mining is one of toxic environmental degradation with no evidence that mining for copper, nickel, and other non-ferrous metals in the water-rich environment of northeast Minnesota can be done without harming our water resources, our health, and the ecology of our land, and;

- Exploration and mining, and the separation of land and mineral rights, decreases property values and can result in condemnation or seizure through eminent domain, while mining displaces existing economic development and diminishes the use of the land for other purposes,
THEREFORE BE IT RESOLVED that Minnesota enact a "prove-it-first" law similar to Wisconsin's "mining moratorium" law, that requires metallic sulfide mine permit applicants to prove that they can operate safely by citing long-term operation and closure of similar mines, that did not pollute the ground or surface waters with Acid Mine Drainage or heavy metals.
Minnesota "Prove It First" Sulfide Mining Resolution : Found HERE